… this has to be a vision that reflects the input and priorities of the Lower Polk residents and merchants … in the hopes of creating a better place for those of us who live, work and visit here now, and for all those who will walk the streets of Lower Polk far into the future.
The Alleyways Initiative:
Since the Lower Polk Neighborhood Organization was founded in 2003, its member base and its numerous partners in the community have been working hard to develop and improve the pedestrian experience of their neighborhood.   The potential to positively activate the district of alleys at the heart of this neighborhood has been a primary concern in LPN's mission. In an area of the city with few Parks and open green space, these smaller, less vehicle friendly alleys have always represented an untapped opportunity, an opportunity that became central to fulfilling the districts growing need for higher quality pedestrian-oriented public space.  The neighborhood needed green spaces to enjoy and the LPN realized that the alleys were going to be key to fulfilling this need.  They could no longer be "Back Streets".  They needed to take front stage,  and so the focus shifted towards the creation of our own "Polk Alleyways District"
An Urban Vision:
Through this Alleyways Document we are defining a vision for a pedestrian prioritized area of the city where people live in a thriving small scale commercial corridor punctuated by regularly inter-spaced, two-block long alleys that stem from the central spine of the Lower Polk Street corridor.  The scale of Polk Street is one that we want to capitalize on and its characteristic feature was its unique arrangement of Alleys that help define it.
The Lower Polk Neighborhood area is a distinct and vibrant part of the unique collection of neighborhoods that characterize San Francisco's rich urban heritage.   It is a diverse and richly textured neighborhood with an emphasis on mixed use development.  Street life is busy and activity extends late into the evenings, characterized by a strong pedestrian oriented small scale "heritage merchant", entertainment and retail experience.  This activity is coupled and supported by increasingly dense housing which is growing rapidly in this transit rich area of the city.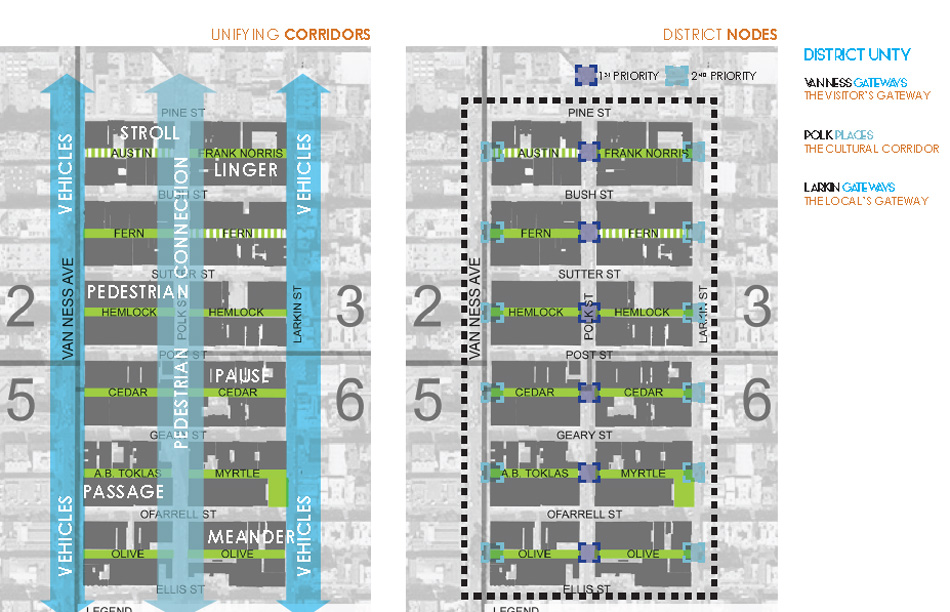 Within this urban context,  there are six key alleyways extending out from  the Polk Street corridor,  between California and O'Farrell.  These 12 blocks together form a characteristic finer urban grain to the central core of this rapidly changing neighborhood.  Arranged in two block pairs these alleys stem outwards both East and Westerly from Polk Street, like ribs along the neighborhood's spine.  Bracketed by Van Ness to the West and Larkin to the East, they are Olive St, Myrtle St, Cedar St, Hemlock St, Fern St.  and Frank Norris, Austin and Alice B. Toklas.   Considered as a 'network ' – these individual alleys offer opportunities for enhanced public space that could become exemplary Living Alleys.
The LPN Board had long identified these priorities, and in 2015 decided that there was a dramatic need to understand these alleyways, not as singular back-streets or isolated funding opportunities, but instead to consider  them as a whole – as a District.  Seen through this lens, the alleyways become integral parts of a larger neighborhood core initiative.  Each alley is a unique part of a larger whole.  When viewed as part of the larger Character defining feature of the Lower Polk Area each one could be individually integrated into a larger high functioning amenity for the whole neighborhood.
Polk Alleyways District brings neighbors, individual merchants and business owners together to leverage the funding is already coming into focus from CPMC mitigation funds, The newly formed  Lower Polk Community Benefit District,  and other private developers to actualize long awaited street improvements to enhance pedestrian experience.  The Vision Plan concentrates and prioritizes projects alley by alley,  and district wide – to create new initiatives and to support initiatives already underway.  The plan encourages new public /private partnerships, advocates for corporate and private funding sources.
The Lower Polk Alleyways District Vision Plan (LPADVP) was commissioned by the Lower Polk Neighbors in the spring of 2015, embarking on a 12 month process to create a new vision for the 12 blocks of alleyways located within the boundaries of its neighborhood. In the summer of 2015, LPN contracted with INTERSTICE Architects to assist and facilitate the community driven process which has resulted in this community initiated set of strategies and guidelines for the future of the LPN Alleyways.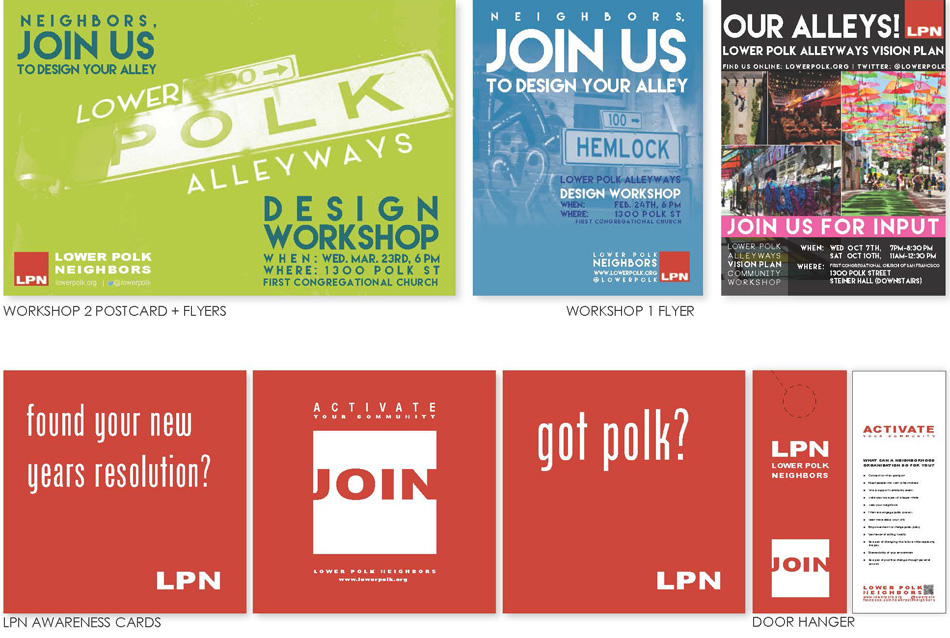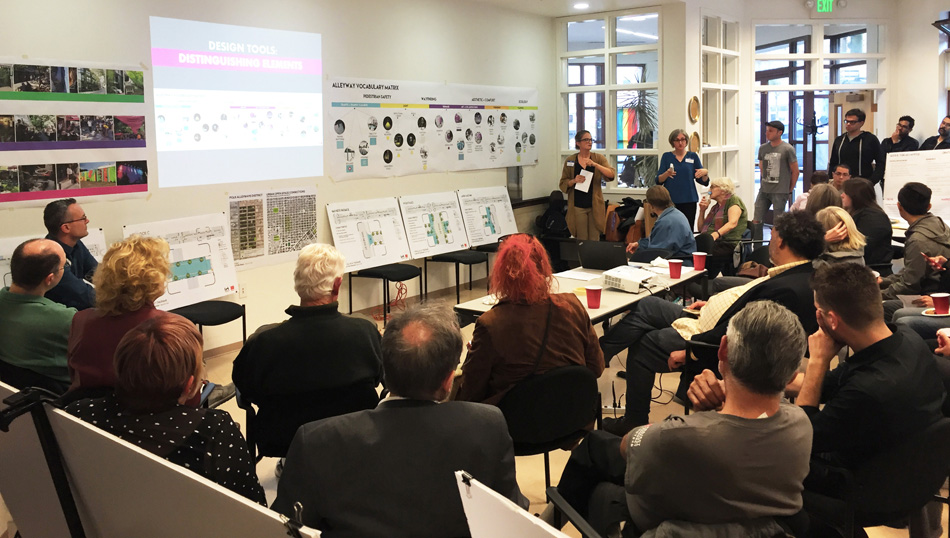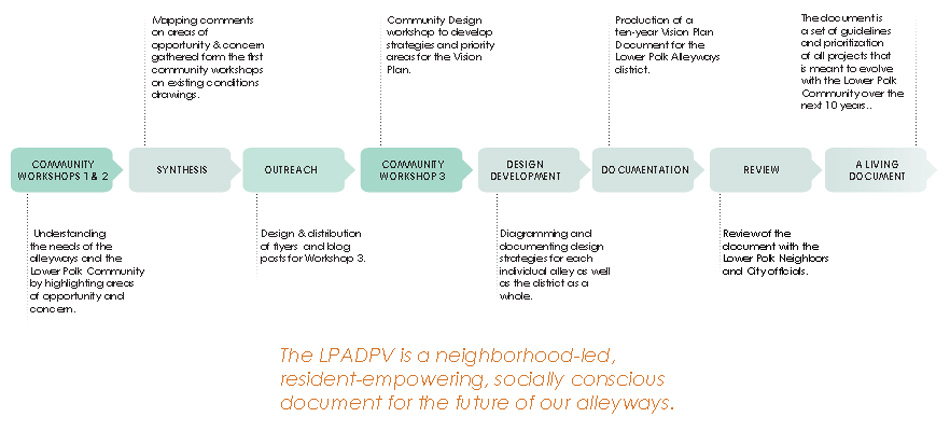 View the document in its entirety:
CLIENT: Lower Polk Neighbors Organization
DATE: 2016
AWARD: ASLA NCC Honor Award, Research, Planning, Analysis and Communication, 2017
The LPA-DVP is driven by the neighbors – Reflecting principles and values set forth by LPN community it is characterized by a single, overarching factor:  it is a community-driven project. This Vision Plan is the result of a year-long process of discussions and meetings with neighbors, merchants, business owners and community stakeholders,  workshops and community meetings, comments and suggestions –  all distilled into a vision that reflects the input and priorities of the Lower Polk neighbors themselves.