The new landscape Master Plan proposed by IA resulted in the transformation of two previously neglected spaces to create two new outdoor assets for rehabilitation: an Entry Garden and a Therapy Courtyard. The residual concrete utilities court and an abandoned ambulance drop-off area converted from marginalized exterior spaces into places. The staff and facilities collaborated on the development of these two previously peripheral landscape areas with a strong desire to integrate therapy activities such as mobility (gait) training for patients and therapeutic gardening, in addition to family visitation.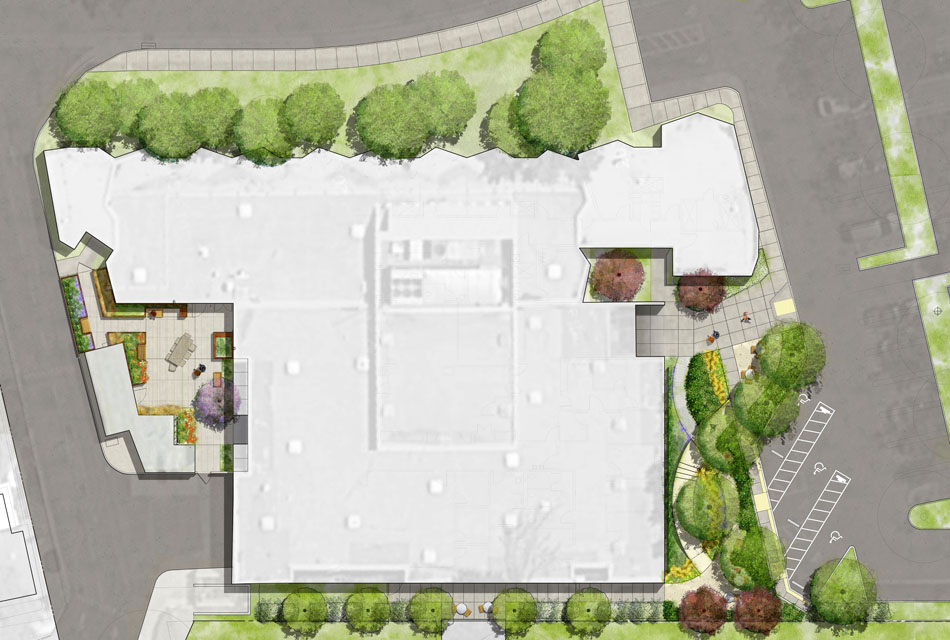 SITE: Los Gatos, CA / SIZE: 8,500 sq. ft. (all courts)
SCOPE: Entry Garden, Viewing Garden, Therapy Courtyard / DATE: Completed Fall 2013
CLIENT: El Camino Hospital
PHOTO CREDITS: Marion Brenner
AWARD: 2014 Merit Award, ASLA NCC Awards, Design: Commercial and Institutional
Entry Garden:
The new Entry Garden creates a new front door for the Inpatient Rehabilitation Center facility.  The design relocated the formerly striped emergency vehicle parking area that served as the main pedestrian entry to the facility.  Staff, patients and visitors now approach through a garden setting with shade trees, pathways, and quiet seating areas for gathering and visiting with family.  The under-utilized parking area was re-configured to create a vibrant and inhabitable entry garden.  The organization is a simple braid of two crossing paths – one that connects two stone fines seating area destinations and one that travels over varying surface paving types and up over a graduated sequence of steps and ramps meant for re-learning mobility.
Therapy Court:
Given the challenges of size limitations and the residual geometries resulting from the existing buildings, a perimeter infrastructure of built-in planters, vine screens, trellises and wooly pockets were used to create green surfaces which also defined and unified the landscape spaces.   The lighting design strategy uses a plane of festoon-type overhead lights and kick-mounted LED lights to extend the use of the Therapy Courtyard, connect it visually to the gym, and unify it spatially.  Plants were selected carefully both for seasonal change and attraction of butterflies and bird life.   Annual vegetable plantings were included to offer opportunities for gardening therapy both for sitting and standing patients.  The formerly unused landscape is now an integral part of the therapy regimes used to treat rehabilitating patients.
Photo credits: Marion Brenner