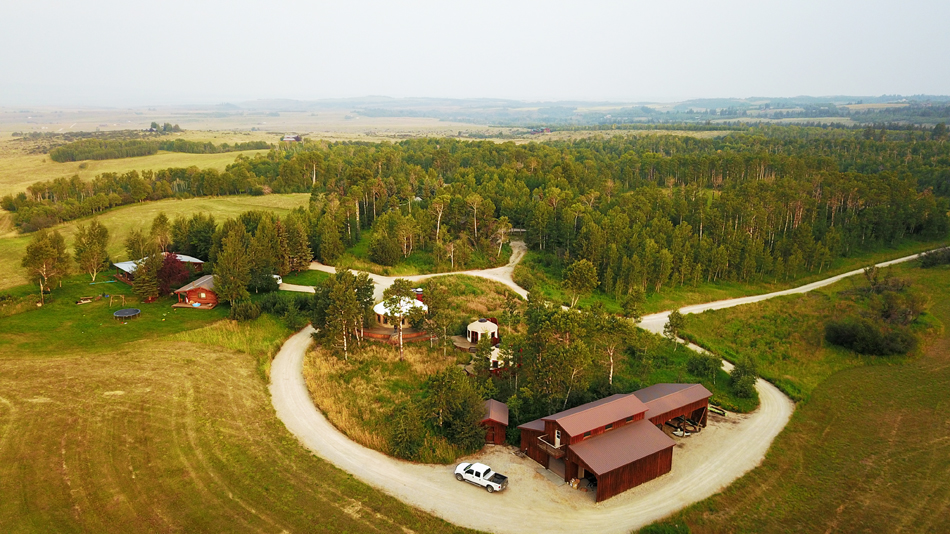 On a family retreat in the foothills of the Grand Tetons, YURT:village hugs a gentle slope within an aspen grove, providing magnificent views of the iconic mountain range. The project provides gathering, sleeping, and service spaces. It is designed to perform year-round in the extreme Idaho climate, while carefully preserving the existing landscape with minimal-impact construction.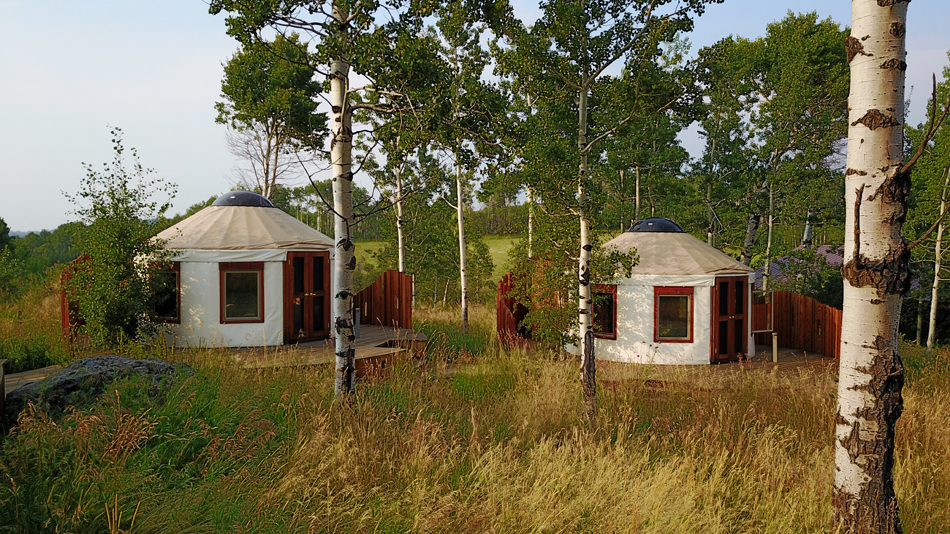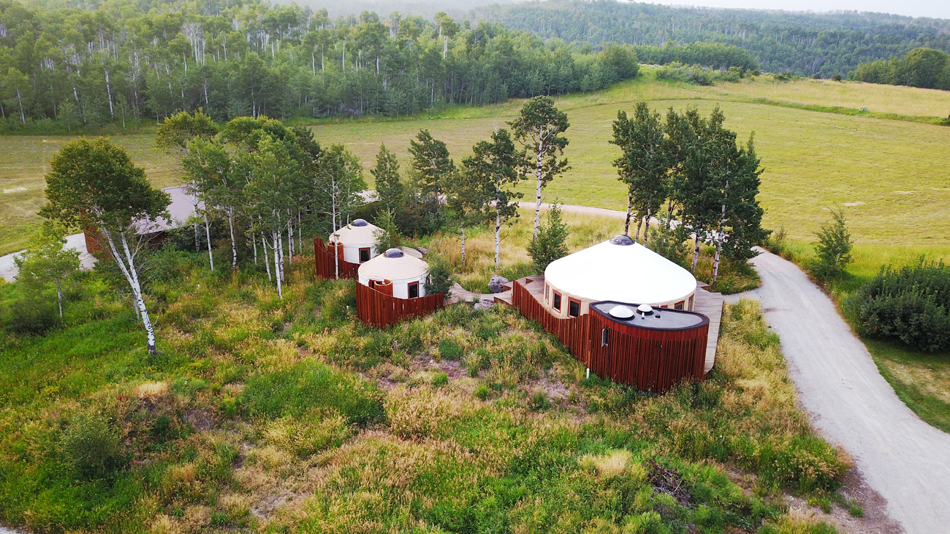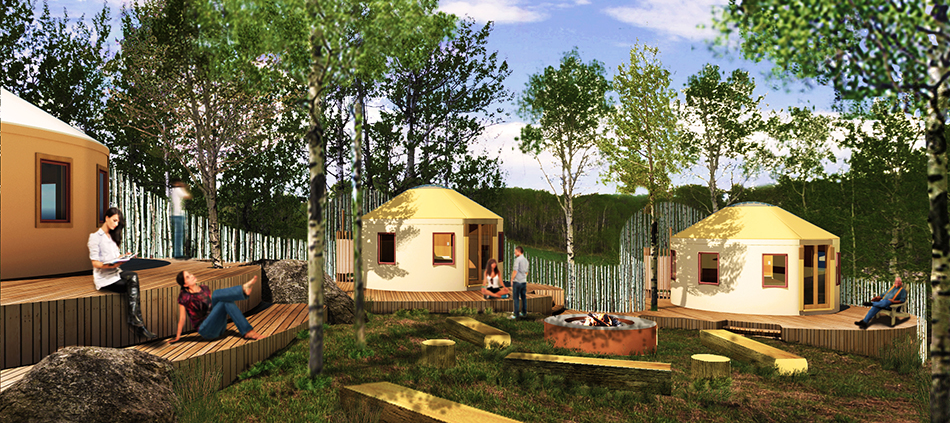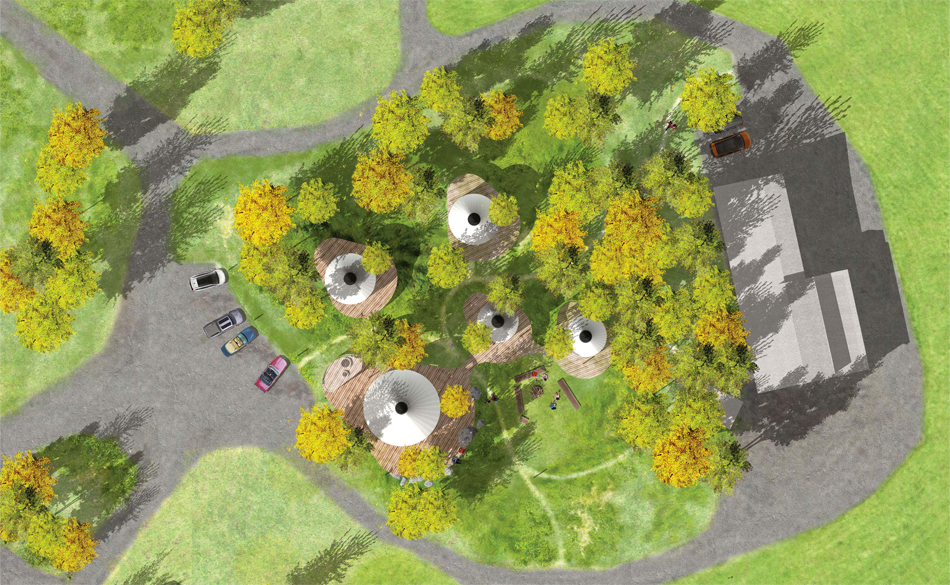 INTERSTICE
A group of pre-fabricated yurts is anchored by a central "Lodge Yurt," which interconnects several smaller "Sleeping Yurts" into a single village with sinuous platforms that trace the native landforms. Aspen poles reclaimed from the modest clearning of the site are used as a variegated screen, guardrail, and organizing device, blending the structures with the native vegetation, while providing privacy and wind protection. The platforms dissolve into paths that flow into the landscape, creating an informal courtyard around a central fire pit. A modest utility building with a shared shower of native stone and generous light complete the "Glamping" experience.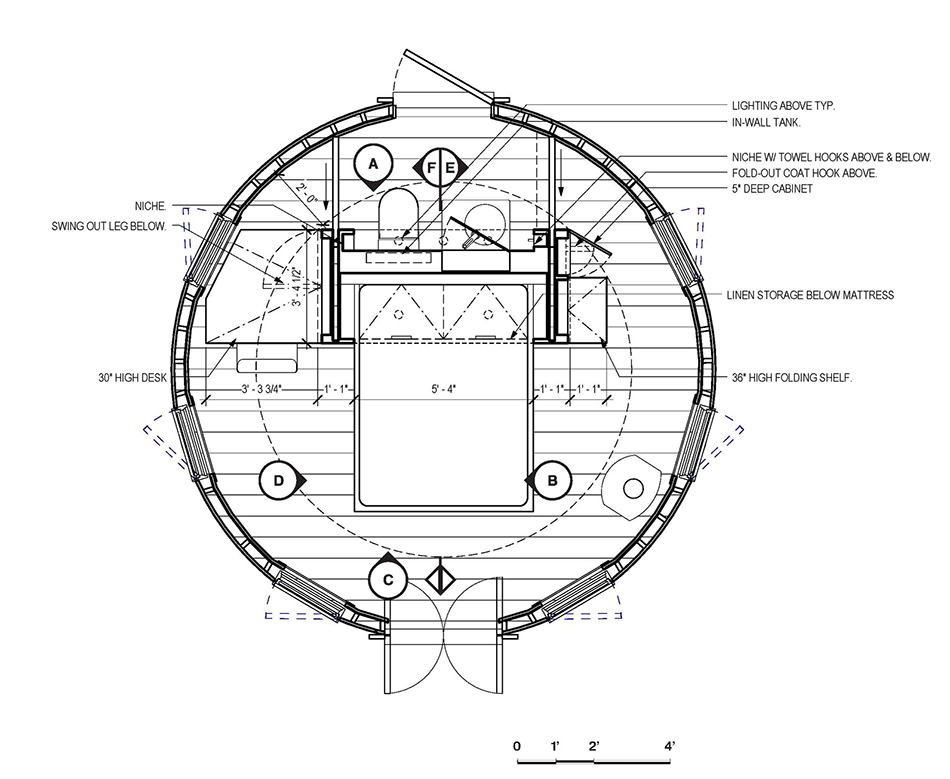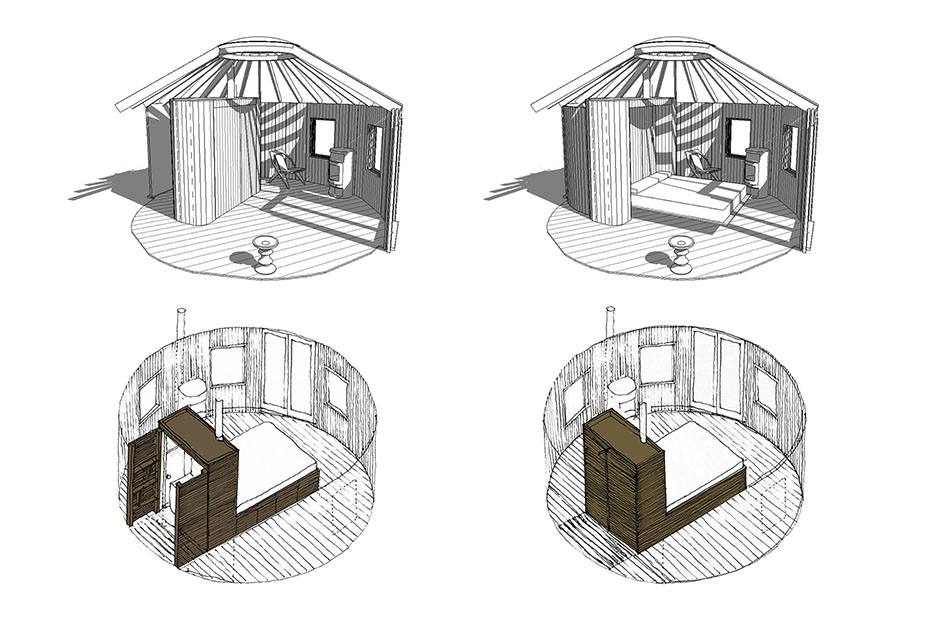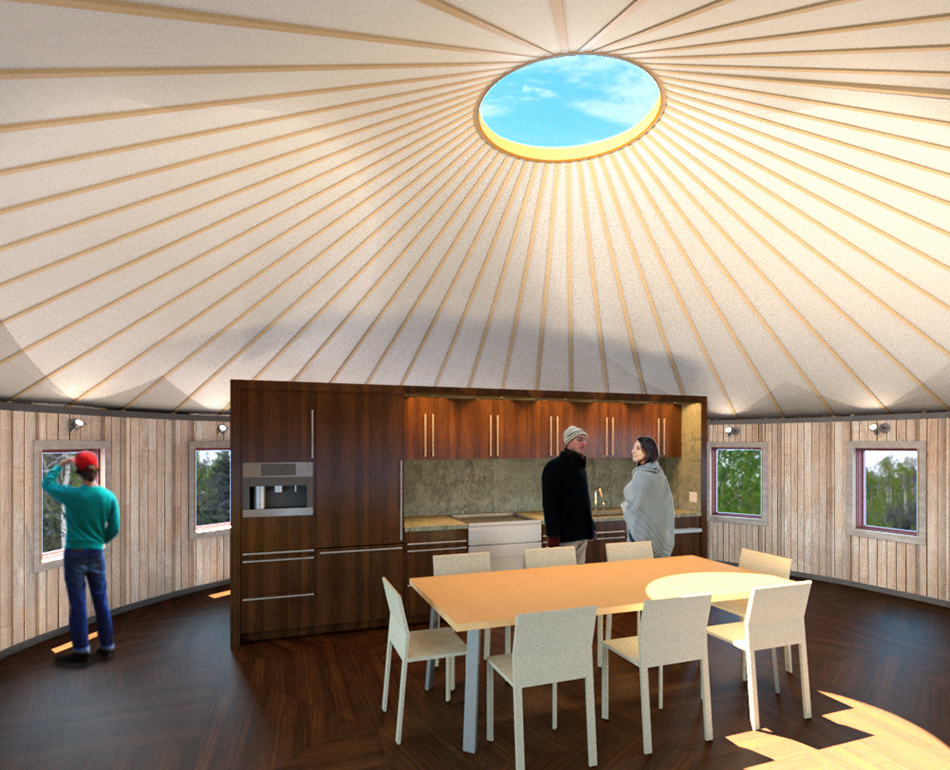 The Village is a hybrid of generic, off-the-shelf components (prefabricated yurts) and unique, site-specific landscape elements (decks, boulders and earthworks). Highly customized interiors provide an unexpected luxury within the generic outer shells. Within the personalized Sleeping Yurts, a highly articulated central core operates like a Swiss Army knife, unfolding to become a bedroom, bathroom, office, and storage closet, all within the sixteen-foot diameter circular plan.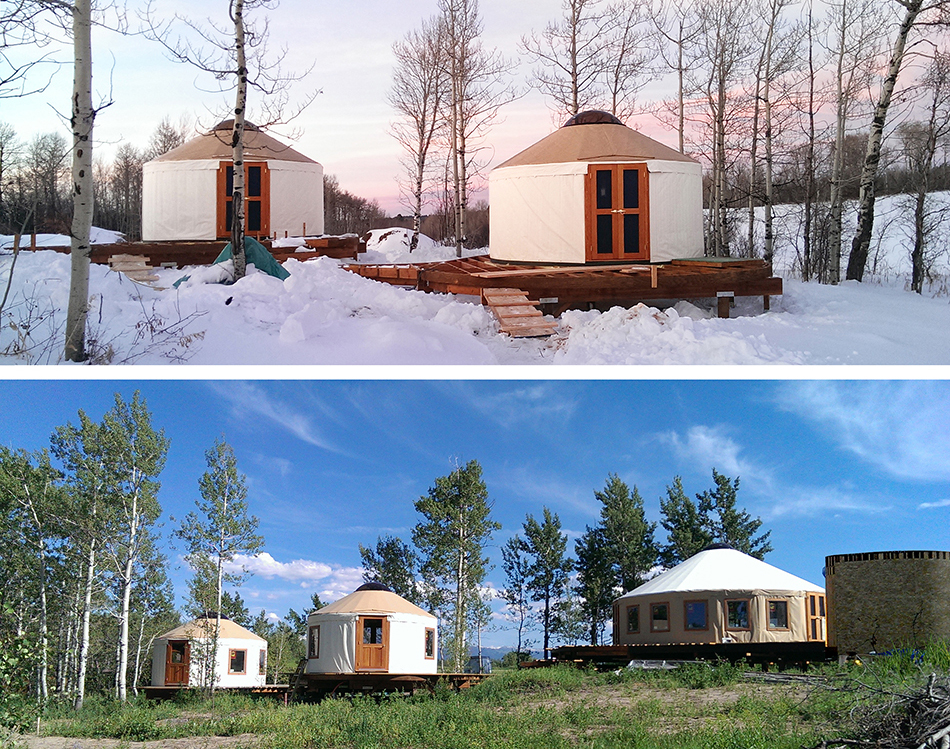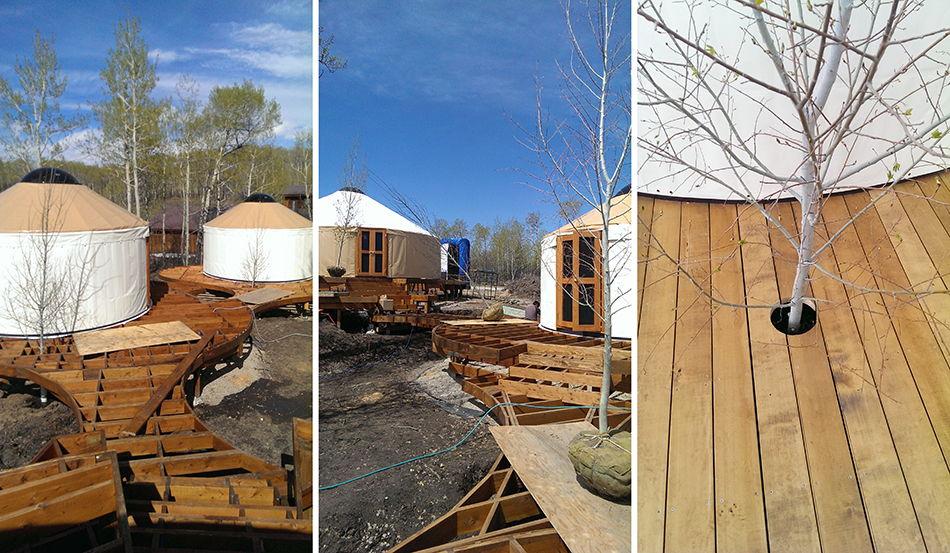 SITE: Tetonia, ID / Size: 3,208 sq. ft.
SCOPE: Landscape Siting, Design, Layout and Customization of multi-unit Yurt Village, including support structures, infrastructure and systems coordination.
DATE: Fall 2015 / CLIENT: Private Client
The Lodge Yurt incorporates an independent internal "machine for living" – a simple, richly detailed, geometric volume dominates the vaulted space, housing a kitchen, a mud room, and storage, while providing space and services for cooking, dining, and gathering.